The header video is the video from the Windjammers 2 release announcement. It was posted today by Dotemu.
It was therefore necessary to wait more than three years after the first announcement of Windjammers 2 during a Nintendo Indie to finally be entitled to a release date. It was via a press release, a twitter post and a video posted on Youtube that Dotemu revealed the release date of the game:
# Windjammers2 will open its jammin 'courts on PC, all consoles (via backward compatibility), and Game Pass on Jan 20, with:

🌟 Amazing characters
🕹️ Sick gameplay mechanics
💪 Incredible stages
🎶 Rad soundtrack
🥏 Frisbee love

Wishlist now on Steam: https://t.co/LjbB4CHFSp pic.twitter.com/pkc5aOLsvX

– Windjammers 2 (@Windjammers) December 14, 2023
It is therefore the January 20, on PC, PS4, Xbox One, Switch, Stadia and via Game Pass that players will be able to beat each other with frisbee throws. A physical format has also been planned in Europe and the United States by the developers, who specify that more information on this subject will be shared.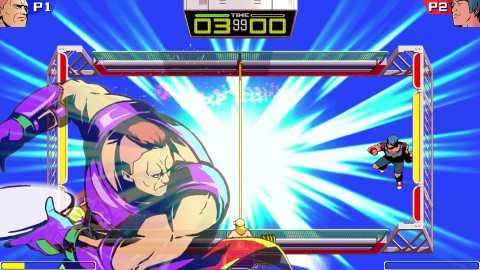 If it comes out as planned in 2023, Windjammers 2 ends 28 years of famine for fans of the Frisbee license. And if the time hole seems huge, the developers of Dotemu promise that the formula will remain unchanged:
Windjammers 2 is first and foremost a radical gameplay approach for particularly high-paced games. The basic mechanics are accessible but require practice to be perfectly mastered.
It is notably on the PlayStation Blog that the studio shares more about its way of having conceived this second opus. They explain in particular that they used the port of Windjammers on PlayStation 4 to understand how the way of playing was constructed:
We tried to analyze the game frame by frame in order to recreate the movements of the characters and the disc, and especially the sensations of the game. However, our development team felt that we were missing some subtleties that could not be be recreated in this way. So we decided to extract the original code and try to understand how it works in order to find answers.
A groundwork which allows Dotemu to transcribe the quality of Windjammers in an episode brought up to date. In any case, we hope so. Answer on January 20 with the release of Windjammers 2 on PC, Switch, Xbox One, Xbox Series, PS4, PS5, Stadia and via Xbox Game Pass.
Source: PS Blog