Little Aloy at the start of the adventure in Horizon Zero Dawn has grown up, and after having defeated a whole bunch of half-prehistoric, half-mechanical monsters in a post-apocalyptic universe, sometimes enchanting, sometimes terrifying, sometimes freezing in its DLC The Frozen Wilds, the great warrior without fear and relentlessly heads west, its white sand beaches, its coconut palms, its turquoise waters and its monsters even bigger and more vicious than in the first opus.
Expected with firm feet by all owners of PS5 but also of PS4, Horizon Forbidden West and Sony are playing big as the expectation is enormous on the part of the players. Lacking significant exclusives and undermined by the restrictions related to Covid, players are waiting for only one thing, to escape and enjoy.
Available from February 18, 2023, the game will be available on PS4 in a regular edition at € 69.99 and on PS5 in 3 different editions. The normal at 79.99 €, a special edition at 89.99 € and finally a collector's edition at 199.99 €. Note that a fourth edition PS5 had been put on sale, called "Regalla Collector" at 249.99 €, but this one, victim of its success, is no longer available.
By pre-ordering any edition at FNAC, you will benefit from the "Nora Heritage Pack", including a complete outfit and the Heritage Lance. As a bonus, and only for the "Standard" and "Special" editions, a 10 € discount in the form of a voucher will be given to Fnac + members.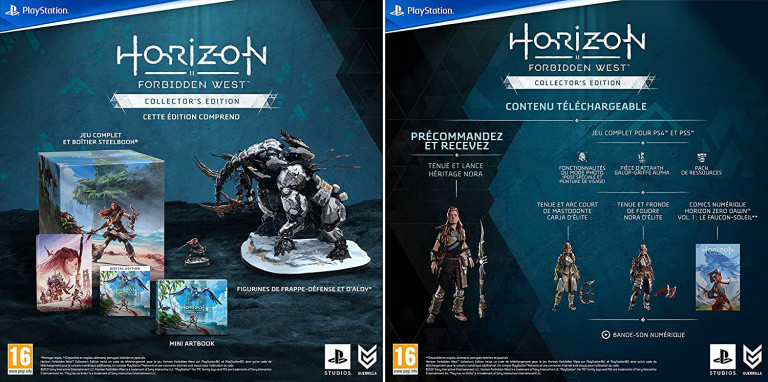 While the Standard Editions only offer you the game and the pre-order bonus, namely the Legacy Outfit, the other two versions, the Special and the Collector's edition contain many additional gifts:
Content of the special edition (79.99 €) :
Content of the collector's edition (199.99 €) :
Only a few more weeks to wait, Aloy's return and the release of Horizon Forbidden West are scheduled for February 18, 2023.
Horizon: Forbidden West trailer
---