Throughout the year, Summoners War sees its content expand through regular updates. In this month of December, two new monsters have just made their appearance: the fencing master and the blacksmith with the runic hammer.
These two monsters come in five different attributes (Fire, Water, Wind, Light and Dark), each associated with specific attacks and passive skills (detailed at this address). The Wind Weaponsmaster, for example, sees her attack power increase as her HP decreases, while the Blacksmith's passive with the Dark Rune Hammer increases attack power reduction effects by 25%, defense and attack speed on enemies.
Summoners who wish to add Rune Hammer Master at Arms and Blacksmith to their collection can attempt to claim them. with the Special Invocation, until next December 27. And that's not all: to celebrate their arrival, a temporary event is organized. Collect points and improve your new monsters to unlock great rewards, like manastones, crystals but also and above all mystical Vellum !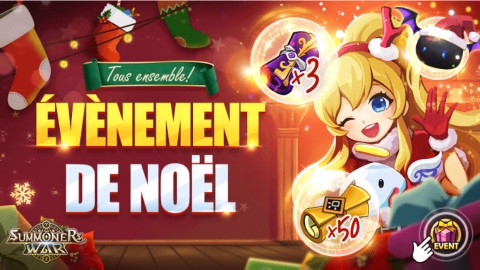 Christmas is also invited to Summoners War through a festive and colorful event! Until next January 2, collect Christmas socks to unlock or collect special gifts in the Christmas Market including 3 legendary vellum, 50 mystic vellum and 1 devil. To get socks, all you need to do is progress through History or play the following modes: Cairos Dungeon, Rift Dungeons, Worlds Raid, or Passage of Dimensions.
Good luck in your quest and happy New Year's Eve to all Summoners around the world!
Learn more about the Summoners War Christmas event