November quickly turned sour for the New York studio! Rather confident in the launch of its remastered collection of three old license titles, namely Grand Theft Auto III, Grand Theft Auto: Vice City and Grand Theft Auto: San Andreas, Rockstar never expected events to take such a turn. After the various snags (inability to launch the title, withdrawal of sales, etc.) and the review-bombing orchestrated by the players, Rockstar took the floor to establish a series of measures able to restore the image of the studio following this debacle .
Among the announcements made by the studio, we found, among other things, the promise of an update and many others in the future, as well as a return of the original PC versions of the three remastered episodes, deleted from the Rockstar store in the meantime, in order to offer them to those who will buy the recent trilogy, until June 30, 2023. But in the eyes of the studio, the compensation was not sufficient which pushed it, today, to outbid.
PC gamers are likely to be jealous of being the center of Rockstar's attention. Indeed, the latter are once again the privileged target of the studio which has decided to offer extra compensation to make them forget about the chaotic launch of Grand Theft Auto: The Trilogy – The Definitive Edition. In this regard, this compensation also applies to those who buy the game on PC by January 5, 2023.
On the occasion of the launch of a sales period on the Rockstar Store, the studio announced that owners of the game will be able to obtain one of the following seven products for free. In the list published by the studio, we find: Grand Theft Auto V, Grand Theft Auto IV, Max Payne 3, LA Noire or Bully: Scholarship Edition. However, for those who would like it, you can, instead of these five games, opt for perks in GTA Online or Red Dead Online by choosing to claim a Great White Shark Cash Card or 55 gold bars.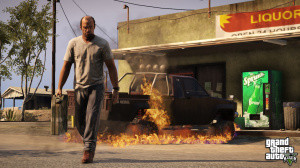 A month after offering its public apology, the studio continues its operation to win back fans. If the case is gradually settling, Rockstar is nonetheless the center of attention since rumors around the development of a sequel to Bully have started to emerge.