When we talk about one, we know that a lot of our readers wonder if this TV is for the next gen video game. So let's start there: this TV is perfect for the PS5 just like the Xbox Series X. 4K and 120 Hz panel (so you can play in 4K 120 FPS) and the famous HDMI 2.1 port that goes with it is indeed present. We also note the presence of FreeSync Premium, a technology very popular with gamers.
The Philips 706 is a high-end 4K smartTV equipped with OLED and Ambilight technologies (if you don't know what it is we explain that below). This is a 55-inch TV, or 139 cm diagonally. It has become the standard of the high end but, believe us, when you come from an old TV, it is very big.
Usually sold for € 1,349, the Philips 55OLED706 goes to € 1,079 only on the E.Leclerc site. An excellent price for a model of this caliber.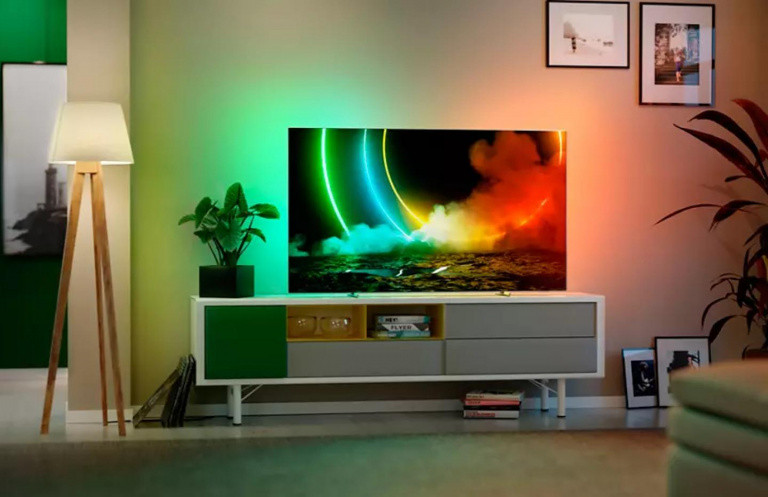 If you still haven't fully understood how OLED technology is a real revolution, we will try to explain it to you in a few words. The great peculiarity of an OLED panel is that it does not need a backlight. It may not sound like much said like that, but, in reality, it changes everything. No backlighting means much more and much more accurate colors. It also means perfectly black blacks, a crazy depth of image, in short: a more or less infinite contrast.
For us, the difference between an LED screen and an OLED screen is even more important than the difference between a Full HD screen and a 4K screen. You only have to put the Nintendo Switch OLED next to its big sister without an OLED screen to realize it.
On top of OLED technology, Philips brings its own in-house technology: Ambilight. Basically, the TV AI will analyze the image on the screen to project colored light behind the screen. It may seem like a gadget, but the effect in use is quite striking and the immersion is clearly enhanced. The example we like to take is that of a lightsaber. If you see a red lightsaber deploying to the right edge of the screen, a red halo will follow its movement, still on the right edge of the screen.
The rest of the features of this TV are a little less important, let's go over them quickly. Connectivity level, everything is complete and faithful to the high end (HDMI eARC, 2.1, Ethernet, Bluetooth …). For the "Smart TV" side, it is an Android TV. The interface is therefore super intuitive and the applications are very comprehensive. Internet browser, Netflix, Amazon Prime Video, Diney +, YouTube, Twitch … in short, there is more or less everything you want within reach of a remote control.